Meeting point at Playa Langosta, our ferry will take you to a scenic 40 minute boat ride. The Dolphin Island facility is located in the middle of the island lush mangrove.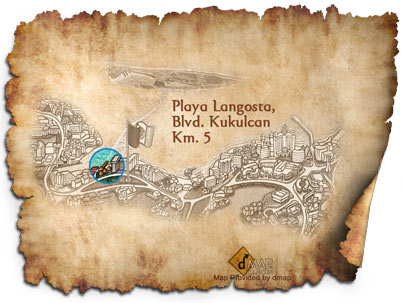 1. Take a cab or a bus to Playa Langosta, located at the Km 5 of the Boulevard Kukulcan, between Casa Maya Hotel and Vacation Club International, right in front of the big Mexican flag.
2. Check in at the Dolphin Discovery office located just before the entrance to The Cove restaurant.
3. Your adventure begins when you board the 110-ft "Discovery" boat for a scenic 40 minute ride across the sea to Isla Mujeres (departure schedules at 9:00 am, 11:00 am and 1:00 pm. Check-in is required 30 minutes ahead of the boat departure.
4. Upon arriving to the island, the members of the Dolphin Discovery team will greet you. All the staff members are trained to answer any question you may have. Do not hesitate to ask.
5. After your program is completed, you will have time to explore Isla Mujeres or to return to Cancun, as you wish.

Carretera Sac Bajo, Lote 98. Colonia Sac Bajo Villa Pirata, Isla Mujeres, Q. Roo 77501 Mexico
Reservation & Info
Toll Free USA 1-866-393-5158
Toll Free Canada 1-866-793-1905
Toll Free MEX 01-800-727-5391
Toll Free Japan 0-800-4422-522192
Direct Line MEX +52 (998) 193 3360

E-mail info@dolphindiscovery.com
Site www.dolphindiscovery.com